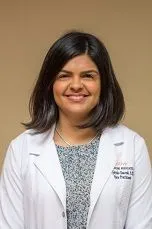 Diane Garrido-Tancredi received her Masters of Nursing Science and Family Nurse Practitioner degree at Florida International University (FIU) and became Board Certified with the American Nurses Credentialing Center (ANCC). She also obtained a post graduate certificate of Culturally Competent Nursing Education at FIU and was privileged to help carry out a research project and see it to publication in 2015.
She obtained her Bachelors of Nursing Science and Registered Nurse degree with Honors at Nova Southeastern University and obtained her licensure February of 2009 through the state of Florida Board of Nursing. During her studies at Nova Southeastern University she was inducted into the Sigma Theta Tau International Nursing Honor and Delta Epsilon Iota Academic Honor Society. She obtained her Associates in Arts with High Honors August of 2006 at Broward College.
Diane practiced for 7 years as a Registered Nurse at Memorial Regional Hospital. She also holds experience and practice in the realm of Undergraduate Nursing education. She strives to provide safe, competent and compassionate care.