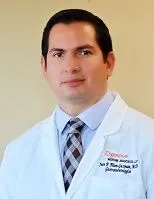 Specialty: Gastroenterology
Dr. Juan Pablo Blum Guzman was born in Guayaquil, Ecuador. He completed medical school at his hometown, where he attended Universidad Católica de Santiago de Guayaquil.As a part of his medical training he traveled to Miami where he performed clinical rotations at Jackson Memorial Hospital and Miami Children's Hospital as a part of the William J. Harrington Training Program for Latin America. Dr. Blum Guzman completed his Internal Medicine residency at Jackson Memorial Hospital/University of Miami. He then joined Florida Hospital in Orlando where he finished a fellowship in Hepatology. He completed his Gastroenterology training at the University of Florida in Jacksonville.
Dr. Blum Guzman comes from long lineage of doctors in his family, strong family values; respect and compassion were always included in his upbringing. He applies these on his day to day practice with his patients.
In his spare time he enjoys spending time with his family and friends, traveling and going to the beach. He encourages and practices and active and healthy lifestyle and diet, although he has a soft spot when it comes to Hispanic food.