Though people often make jokes about hemorrhoids, they are no laughing matter for the estimated 1 million Americans who live with them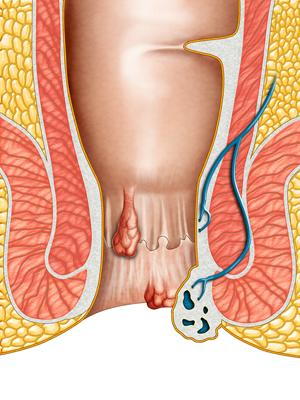 each year (estimated by the Epidemiology and Impact – NIH Publication). They can be extremely painful and difficult to get rid of. Some people are forced to deal with them for a week or longer before they get any relief. They are enlarged blood vessels that bulge around the rectum and anus. Seek hemorrhoid help at Digestive Medicine Associates, LLP in Hialeah, Coral Gables, Pembroke Pines, and Miami, FL (also serving patients in Kendall, FL).
Hemorrhoids Hurt
If you ask any patient who has suffered from hemorrhoids, they'll probably tell you that the first sign is palpable pain in the rear end. Because it happens near the rectum where there are many very sensitive nerves, the pain is almost impossible to ignore. If you work at a job that requires you to sit down for long periods of time, this condition can be particularly disruptive to your everyday life.
Other Hemorrhoid Symptoms
Besides pain, there are additional symptoms that may come with hemorrhoids, or signs that they may be developing. Here are a few things to look out for:
- Tingling sensation in the rectum area (a potential warning sign that they are forming).
- Bubble-like growth around the rectum (interior hemorrhoids may also form).
- Sharp throbbing pain in the backside.
- Inability to sit down comfortably.
- Blood in the stool (internal hemorrhoids).
- Difficulty going to the bathroom (specifically, pain when having a bowel movement).
Hemorrhoid Treatments
As hemorrhoids are often caused by straining when going to the bathroom, one of the first things you and your Hialeah, Coral Gables, Pembroke Pines, Kendall, and Miami doctor will do is resolve the reason for constipation. That may include taking digestive supplements, a dietary change, or doing a test to see if there is something interfering with normal bowel movements. Additional hemorrhoid treatment options include prescription hemorrhoid cream and surgical removal of stubborn hemorrhoids (called a hemorrhoidectomy).
Relief is Available
You don't have to continue to experience the difficult pain of hemorrhoids anymore. See one of our gastroenterologists at Digestive Medicine Associates in Hialeah, Coral Gables, Pembroke Pines, and Miami, FL (also serving patients in Kendall, FL) for immediate help. Call (305) 822-4107 today to set an appointment.